[vc_row css_animation="" row_type="row" use_row_as_full_screen_section="no" type="full_width" angled_section="no" text_align="left" background_image_as_pattern="without_pattern"][vc_column width="1/3″]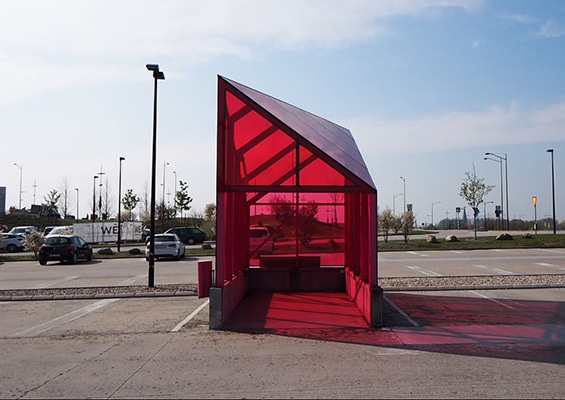 Konstkiosk #2
[/vc_column][vc_column width="1/3″][vc_column_text]
Konstkiosk #2
Vernissage 7 juni 2019 kl 18-21.
Plats: Konstkiosk, S:t Knuts väg 10, Malmö
Invigningstal av Konstkiosk kl 18.30
Monika Gora, kl 18.45:  Stadsträden och människan
Utställningen pågår 7 juni – 16 juni 2019.
Öppettider: mån-fre 15-19, lör-sön 12-16
Deltagande konstnärer:
Ingrid Book/Carina Hedén, Norge/Sverige
Mads Farsø, Danmark
Monika Gora, Sverige
Konstkiosk är ett konstprojekt i gränslandet mellan konst och arkitektur.
När våra städer förtätas måste vi värna om det offentliga rummet.
Projektet är initierat och organiserat av Peter Dacke och Christel Lundberg.
I projektgruppen ingår också Juan Carlos Peirone och Nicholas Hartman.
Projektet inviterar svenska och internationella konstnärer, arkitekter och teoretiker.
Konstkiosk vision 
• Konstkiosk föreställer sig ett samhälle där det offentliga rummet existerar utan privat infiltration som underminerar dess betydelse av att vara ett socialt rum.
• Konstkiosk ämnar föra diskussioner om det offentliga rummets betydelse, tillsammans med medborgare, omedelbart på gatunivå.
• Konstkiosk vill riva barriärer mellan konst och arkitektur mellan politiker, tjänstemän, professionella utövare och medborgare.
• Konstkiosk vill bana väg för nya tankar om hur vi kan använda våra gemensamma rum i staden.
• Konstkiosk vill verka för att konsten och arkitekturen erkänns som de mest effektiva instrument vilka både påverkar och mäter demokratins tillstånd i samhället.
Konstkiosk #2
Vi visar arbeten av landskapsarkitekt och konstnär Monika Gora jämte två internationellt uppmärksammade konstnärer från Norge, Ingrid Book och Carina Hedén vilka har arbetat med urban problematik sedan åttiotalet samt Mads Farsø (Danmark) biträdande universitetslektor, LARK Programstudierektor (SLU Alnarp) och landskapsarkitekt (Farsø Have), som bl.a annat varit medarrangör för Köpenhamns arkitekturfilmfestival.
Boksläpp av Konstkiosk #2:
Denna utgåva presenterar texter av bl.a Ana Falú, (Argentina) akademiker och feminist, Pavel Grabalov (Ryssland), PhD Candidate, Faculty of Landscape and Society, Norwegian University of Life Sciences och Juan Carlos Peirone, arkitekt och konstnär. Även utställarna Monika Gora, Mads Farsø and Ingrid Book/Carina Hedén bidrar med visuella arbeten och texter i katalogen.
Förord av Konstkiosk.
Under utställningen presenteras historiska fotografier från området installerade på lyktstolpar längs med S:t Knuts väg.
Projektet är samarbete med Brf Knuts Park.[/vc_column_text][/vc_column][vc_column width="1/3″][vc_column_text]Konstkiosk # 2
Opening on June 7, 2019 at 6-9 PM.
Location: Konstkiosk, S:t Knuts väg 10, Malmö
Konstkiosk speech at 6.30 PM
Monika Gora, at 6.45 PM:  Urban trees and man
The exhibition is open June 7 – June 16, 2019.
Open hours:Mon–Tue 3–6 PM, Sat–Sun 12–4 PM
Participating artists:
Ingrid Book/Carina Hedén, Norway/Sweden
Mads Farsø, Denmark
Monika Gora, Sweden
Konstkiosk is a project in the borderlands between art and architecture.
When our cities are densified, we must protect the public space.
The project is initiated and organised by Peter Dacke and Christel Lundberg.
The project group also includes Juan Carlos Peirone and Nicholas Hartman.
The project invites Swedish and international artists, architects and theorists.
Konstkiosk vision
• Konstkiosk imagines a society where the public space exists without private infiltration which undermines its importance of being a social space.
• Konstkiosk intends to conduct discussions about the importance of public space, together with citizens, immediately at street level.
• Konstkiosk wants to break down barriers between art and architecture between politicians, civil servants, professional practitioners and citizens.
• Konstkiosk wants to pave the way for new ideas on how we can use our common space in the city.
• Konstkiosk wants to work for art and architecture to be recognized as the most effective instruments that both affect and measure the state of democracy in society.
Konstkiosk # 2:
We show works by landscape architect and artist Monika Gora and two internationally based artists from Norway, Ingrid Book and Carina Hedén who have worked with urban issues since the eighties and Mads Farsø (Denmark), Associate Senior Lecturer, LARK Program Studies Director (SLU Alnarp) and practicing Landscape Architect MDL (Farsø Have), who, among other things, co-organized the Copenhagen architecture film festival.
Book release by Konstkiosk #2:
This edition presents theoretical texts by Ana Falú (Argentina) academic and feminist, Pavel Grabalov, (Russia), PhD Candidate, Faculty of Landscape and Society, Norwegian University of Life Sciences and Juan Carlos Peirone, architect and artist. The exhibitors Monika Gora, Mads Farsø and Ingrid Book/Carina Hedén also contributes with visual works and texts.
Preface by Konstkiosk.
During the exhibition, historical photographs of the area are installed on lampposts along S:t Knuts väg.
The project is collaboration with Brf Knuts Park.[/vc_column_text][/vc_column][/vc_row]